Gender Magic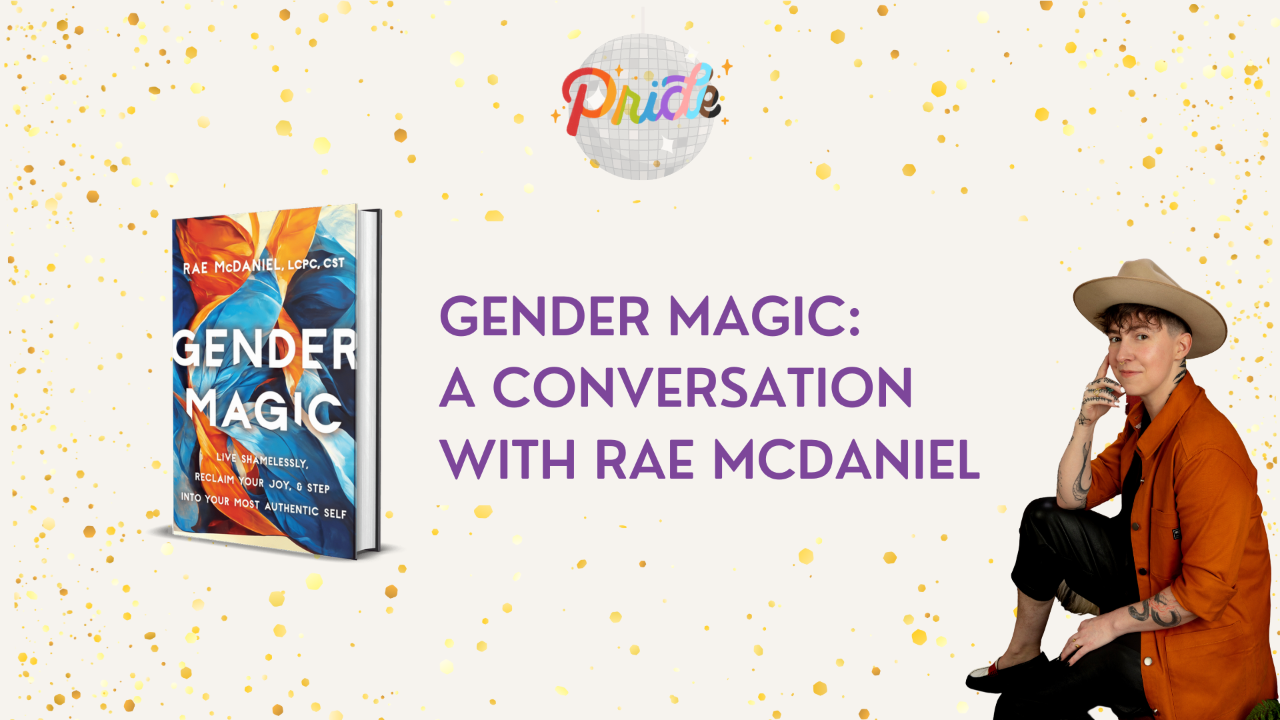 We are one month out from our next Pride and Joy Parent event, Prepping your family for Pride and are so excited that Rae McDaniel (they/them) will be joining our incredible panel of distinguished guests.
Rae is a licensed therapist, certified sex therapist, gender specialist, coach, educator, and author of the new book Gender Magic. They are the Founder and CEO of Practical Audacity, a Gender & Sex Therapy practice in Chicago, Illinois. We spoke with them about writing their book, Gender Magic, what pride means to them, and some notes on allyship. Here is more from our conversation.
"I believe the world is a better place when we all have the freedom and audacity to be our biggest, most lit-up, authentic selves. That's my mission and I hope you will join me in it." -Rae McDaniel (they/them)
Pride and Joy Foundation (PJF): Could you speak a little on the process of writing Gender Magic? (How long did it take, how did the idea come about, what was the biggest inspiration, etc?)
Rae: As a non-binary person and gender and sex therapist, I was frustrated that the dominant narrative about gender exploration and transition only focused on the negative and hard parts of what it means to be a transgender person in our world today. The very real and difficult aspects of being a transgender person cannot be ignored, but I was also seeing my clients and community thrive and wanted to figure out how to help gender explorers engage with gender in a way that didn't feel like a slog through the mud.. I got curious and I followed that curiosity.
I sat on my living room floor for weeks surrounded by client notes, sticky notes, books, and research articles until I was able to get clarity on how all of the pieces fit together to create a framework for helping transgender and non-binary folks explore and transition their gender with less suffering and more ease. The outcome of this-The Gender Freedom Model-became a peer-reviewed journal article and the backbone of my book, Gender Magic.
When I started the book proposal process in January of 2021, I didn't feel quite ready to write a book yet. I wasn't internet famous and I was concerned I wouldn't get a book deal. Luckily, I had several business mentors and trusted friends who encouraged me to go for it. The entire process from proposal to publication took 2.5 years.
PJF: What writer(s) inspired you?
Rae: I adore Lydia Yuknavich. She writes in a way that viscerally impacts you both in her stories and her form. Her writing makes you feel more human by speaking the story underneath the story, delving into truths about humanity in a way that few contemporary writers are able to do.

PJF: What does Pride mean to you?
Rae: Pride is a fully owning and understanding your own dignity as a human being. It impacts the stories we believe about ourselves and how we talk to and about ourselves. In Gender Magic, I talk about pride as an action. Pride is unapologetically taking up space, setting boundaries for how we allow ourselves to be treated, fighting for our rights and the rights of others, and celebrating who we are. Pride is a also a muscle. We build pride in who we are by acting in alignment with our values and beliefs, in connection with a supportive community.
PJF: Who and/or what helped support you in coming out?
Rae: My chosen family were essential in my coming out process. I was very fortunate to be working at an LGBTQ+ focused business and to have a strong support network of LGBTQ+ friends and allies when I came out publicly and to my family. My family is very religious and conservative and I knew they would not support my queer identity. Navigating their homophobia and transphobia was and is a challenging part of my life. However, I've always had close friends who have my back and a place to go for holidays. I'm not alone.
PJF: What are three things you want from an ally?
Rae:
Respect my identity by using my name, pronouns, and correct gender.

Share your support and celebration of LGBTQ+ individuals, including advocating for our rights and dignity whenever possible.


Relate to me as a human being and not a novelty. I guarantee my sexual orientation and gender identity are not the most interesting thing about me.
Available for pre-orders now and in stores May 30th!
Hear more from Rae, Junior Mintt, Kalyela Josephs and Elena Joy Thurston on Tuesday, May 16 4pm PT/ 7pm ET for our Pride and Joy Parent Event open to any and all parents, adults, educators, caretakers who want to be more supportive in the LGBTQ+ community beyond Pride. Register here!
---
About the Author: Rae McDaniel (they/them) is a non-binary Speaker, Author, Therapist, Certified Sex Therapist, Coach, and Transgender Diversity and Inclusion Educator. Rae helps audiences gain the sheer audacity to be themselves in the world through play, pleasure, and possibility. They also are the founder and CEO of Practical Audacity, a Gender & Sex Therapy practice in Chicago, serving over 300 clients yearly.