October is LGBTQ+ History Month!
If Pride is in June, then why do we celebrate LGBTQ+ History Month in October?
The reason is because it coincides with the National Coming Out Day on October 11 as well as honors the first marches in Washington for LGBTQ+ rights that were in October of 1979 and 1987. The United States didn't officially recognize October as LGBTQ+ history month until 1994. Rodney Wilson, the first openly gay public school teacher in Missouri came up with the idea. Wilson was a founder of the first coordinating committee and helped choose October as the month for our history along with early members of Kevin Jennings from the Gay, Lesbian and Straight Education Network (GLSEN) and others.
If you read about historical moments and tell yourself, If I lived in that time, I would do more to help change things. Well now is the time, you can. We need advocates and allies.
Here are things you can do today, right now to help make a difference and be a part of history and make space for LGBTQ+ futures:
Register to Vote. Vote for policy and legislators who stand up for injustice and fight for equality and equity in issues pertaining to LGBTQ+ communities.
Educate yourself. Big organizations like the Human Rights Campaign, Equality Federation, Lambda Legal, and a site dedicated to LGBTQ+ history , all have fantastic resources. Recognize the intersectionalities of those under the umbrella LGBTQ+ in regards to race, gender, neurodiversity, ability, and socio-economic statuses. Google searches will lead you to so much content. For a starting point, here are some of my favorite LGBTQ+ history short videos:
Plug In. Find local LGBTQ+ organizations near you. CenterLink is a great source to find LGBTQ+ centers nationwide. Additionally, sign up for newsletters for these organizations- even if you filter them in a folder and save them for a rainy day. A lot of organizations need to show donors the numbers of supporters. Signing up for newsletters is a free and easy way to help organizations get funding to then help their communities. You can start with ours: Pride and Joy Foundation Newsletter.
Volunteer. At the polls, in your schools, in your community. Find ways you can help support and advocate in areas of expertise. Offer to create newsletters/social medias if smaller organizations don't have the people power, sign up to answer phone calls and questions or help with local events. There is power in numbers.
Donate Money. Especially to your local and smaller nonprofits where services are needed in more rural areas or areas that don't have as much funding like the larger organizations. Of course helping larger organizations is helpful of course as well! Do your research and if you are able, give to the organizations that align with your values.
Looking for more? LGBTQ+ youth in schools need us more than ever. Books are being banned, LGBTQ+ (especially trans and nonbinary) youth and educators are being discriminated against, and some are even being fired. Schools are taking away rights and trying to halt policy changes in so many issues related to the LGBTQ+ community. Schools are supposed to be safe spaces.
Are you feeling extra bold? Learn how to start your own Gay Straight Alliance in your school districts with the help of our Leaders for Inclusive Change. We have a live course starting October 12, 2022 or a DIY at your own pace.
You can also host affirming spaces for your LGBTQ+ at home or at community centers. Mo Bailey, one of our panelists from the SAFE at Schools event in September, has some tips for paving your own way and providing safe and affirming spaces for LGBTQ+ youth. This can be helpful if you run up against roadblocks in school districts.
Ten U.S. Influential Figures in LGBTQ+ History:
Marsha P. Johnson- (August 24, 1945- July 6, 1992). American gay liberation activist and drag queen. Also known as Malcolm Michaels Jr. Johnson was a key figure in the Stonewall Uprising. For more about Marsha, check out the 2017 film, The Death and Life of Marsha P. Johnson.
Stormé DeLarverie- (Dec. 24, 1920- May 24, 2014). A butch lesbian and performer, she is dubbed the "Rosa Parks of the gay community" for igniting the Stonewall Uprising and is remembered as a gay civil rights icon and activist.
Sylvia Rivera- (July 2, 1951-Feb. 19, 2002). She was a close friend of Marsha P. Johnson and co-founder of Street Transvestite Action Revolutionaries (STAR), an organization that helped and supported homeless gay youth, young drag queens and trans women. She was an active member of the Gay Liberation Front, a drag queen herself and a transgender rights activist.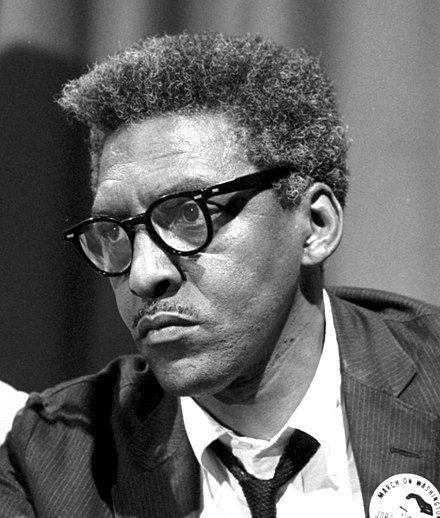 Bayard Rustin- (March 17, 1912- August 24, 1987). Rustin worked closely with Martin Luther King Jr. and helped organize the March on Washington. Due to safety concerns and criticism for his sexuality, most of his gay rights activism was behind the scenes until the 1980s when he became a public gay rights activist.
Leslie Feinberg- (Sept. 1, 1949- Nov. 15, 2014). Feinberg was an American butch lesbian, author, transgender rights activist and communist. You can access Feinberg's cult classic Stonebutch Blues, is available to read for free, a novel that helped contribute to the transgender rights movement.
James Baldwin- (Aug. 2, 1924- Dec. 1, 1987). American writer who wrote themes about masculinity, sexuality, race and class that were prominent for the times. Like Bayard Rustin, he was scrutinized for his presumed sexuality with his civil rights activism. Baldwin is considered one of the greatest writers of our time.
Audre Lorde- (Feb. 18, 1934- Nov. 17,1992). Aurde Lorde was a womanist, radical feminist, civil rights activist and poet who dedicated her life to addressing injustices of racism, homophobia, classism and sexism. She became New York's poet laureate and is most widely known for her speech at the 1979 March on Washington for lesbian and gay rights.
Barbara Gittings- (July 31, 1932- Feb. 18, 2007). Gittings was attempting to normalize homosexuality long before Stonewall. She was an active member of Daughters of Bilitis, the first organization that focused on lesbian rights, and editor of The Ladder, a magazine by and for lesbians. Her biggest push in activism was to reverse the American Psychiatric Association's (APA) belief of homosexuality being a mental illness. The APA removed homosexuality as an illness in 1973.
Gilbert Baker-(June 2, 1951- March 31, 2017). We owe it to Baker as the creator of the original rainbow flag. Baker was asked by his friend Harvey Milk, California's first openly gay man elected in public office, to create a flag to represent Pride. Baker hand sewed the flag with colors that represented importance to the community and it was first flown at San Francisco Pride in 1978.
Edith Windsor-(June 20, 1929- September 12, 2017). Windsor was an LGBTQ+ activist and former employee of IBM. She is mostly remembered for all her activism in the LGBTQ+ community including the 2013 Supreme Court Case, United States vs. Windsor that played a role in overturning section 3 in the Defense of Marriage Act (DOMA), a landmark case that extended rights, privileges and benefits to same-sex couples on a federal level.

These are only 10 of many important and influential figures in LGBTQ+ history. GLSEN has some information with snippets of many more influential figures you can read about here. Of course there are many of us, past and present, who are making (or have made) history that has gone unrecognized or given less attention to. Just know your efforts matter and we see you. To the ones who were brave enough to start a GSA at school, or the one's who ran for local office, to those who were able to make small policy changes in local cities, schools, offices, etc. These matters are just as important, and thank you.
When I think of LGBTQ+ history, I see pain, suffering, sadness, and struggles. But I also see joy, resistance and courage and I am humbled for all those who stood up against the hate, the harassment and anti-legislation.
The political pendulum swings in history and everything we have today was because of folks like Bayard Rustin, Marsha P. Johnson, Sylvia Rivera, those involved in The Daughters of Bilitis or the Gay Front Liberation, Leslie Feinberg, who also wrote a beginning of trans history-Transgender Warrior, and every single person in the LGBTQ+ community who takes a stand everyday to live their authentic self. And to those who struggle internally with the complexities of living as an LGBTQ+ person in a world that has progressed, but also faces so much discrimination, harassment and bullying today. It is up to us to teach our history, and continue making our history to write our futures. We cannot be erased.
---
About the Author. C. Rizleris (they/them) is a contributing writer for the Pride and Joy Foundation and has worked in higher education for over ten years. They currently volunteer with LGBTQ+ youth at the Guilford Green Foundation and serve on the Transgender Task Force Committee for the city of Greensboro, NC. Currently, they are working on a hybrid essay collection centered on liminal spaces as a candidate for an MFA in Writing at Vermont College of Fine Arts. You can find C. on Twitter @rizwrites.