Halloween is Queer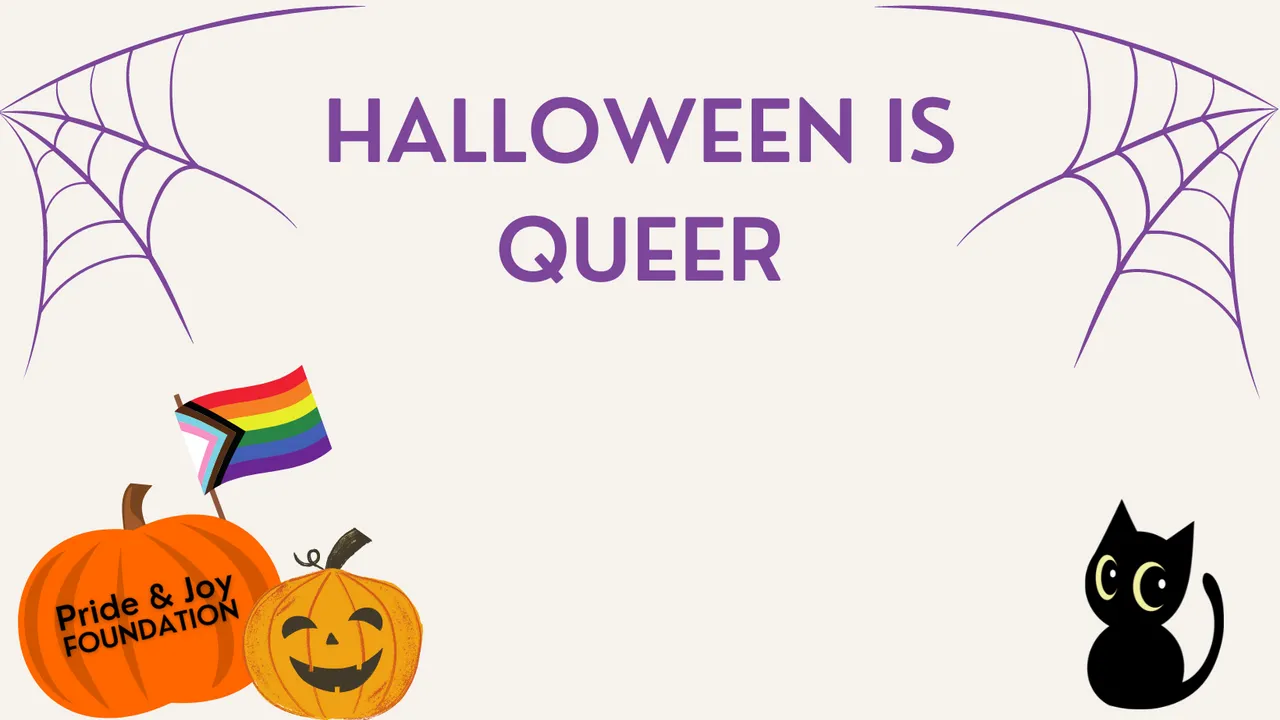 Halloween is Queer
by C. Rizleris (reposted and updated from Oct. 2022 blog post)
Happy Halloween! I love to begin this post with my favorite poet, Nickole Brown, who posts this EVERY Halloween on her social media:
"Halloween: the best holiday, if you ask me– it doesn't insist upon wholeness that makes so many feel deficit and lonely; it rarely makes your family feel more broke (or broken) than it already is. Halloween doesn't care if you've been good or bad or what religion you are or not. So bring on the eyelashes and wigs and devil's horns; take out the pancake makeup and fake blood and those ridiculous heels you thought you'd never wear again. The kids are squealing down the street with pillowcases full of free candy, the drag bars have lines around the corner, and for one night, everyones asking everyone else a pretty great question, 'so, who are you'?" - Nickole Brown's annual Halloween announcement.
I don't think I have ever skipped dressing up, even if I just threw on some cat ears and called it a day. But there is nothing quite like a good old fashioned homemade costume. Once, my mom made me be a fly (yes the insect) when I was a kid. She had giant wicker wall decorations that she thought would make great wings and she dressed me all in black with a black eye mask. The wings were so wide I could barely get through doorways to get my candy so the wings eventually had to go. Then there was the time my best friend Janine sewed me a Peter Pan costume in college with a felt hat and everything. I even wore tights. But my favorite homemade costume was when I was the magic school bus and it was just before midterm elections in 2018. I made it out of a box and painted it yellow. It even had glow sticks in the headlights and taillights. You could see Bill Nye the Science Guy waving out a window and information about reproductive rights and safer sex was displayed all over the bus. It was probably the queerest and proudest creative endeavor. The bus even made a cameo for a drag talent that won Mr. Sweetheart 2019. Here is a picture for the full effect.
So many times Halloween allowed me to be something that didn't require a gender, or allowed me to be something that I could try out another gender and not get asked twice about it. With all that in mind, did you ever think about how queer Halloween really is? In case you were wondering, yes, Halloween has queer history.
***please note, the use of queer is used as a reclaimed term but this term was originally used as a derogatory term toward LGBTQ+ people.
Some Queer Halloween History
Halloween is rooted in the pagan holiday, Samhain. A Gaelic celebration of the end of harvest season and the beginning of winter, or the darker half of the year when daylight fades. Being a pagan celebration, it often creates a safe (or at least safer) space for those who are already being treated as outcasts.
In case you didn't know, dressing in clothes that were not the same as your assigned gender at birth was illegal once upon a time and not too long ago here in the United States. Laws known as "three article rules" required individuals to wear at least three articles of clothing that matched their assigned gender at birth. So not that long ago, you could be ARRESTED for not wearing three articles of clothing that matched your assigned gender at birth. These laws were twisted and manipulated at the turn of the 20th century when gender nonconformity was considered a sickness and a public offense. You can read further about this history here. Rules like this seems bonkers to me, and absolutely terrifying, especially the way anti-LGBTQ legislation is currently turning.
LGBTQ+ communities in Philly started celebrating "bitches Christmas" in the 1950s and 60s by dressing up in drag and hopping from bar to bar as others began to follow. These ended up morphing into Halloween parades and are partly due to why you may have heard Halloween as the "Gay Christmas."
In mainstream culture, Halloween morphed from wearing costumes to ward off evil spirits in the origins of Samhain to wearing costumes for fun celebrations involving candy and treats. Because these celebrations became part of societal norms during Halloween, this offered a public space for LGBTQ+ communities to be their authentic selves during a time when living as an openly out LGBTQ+ person was still considered a crime. Halloween provided the LGBTQ+ community a way to push boundaries beyond social norms and explore gender, sexuality, kinks and beyond safer by disguise of being "just a costume".
About Those Costumes…
The reality of lived experiences in marginalized communities needs no time for made up fear, but one thing our communities can always use is a little more joy. Joy in itself is an act of resistance. So grab a costume and have some queer joy in a safe environment.
With that in mind, please refrain from costumes that appropriate other cultures or peoples. If you are unsure about costumes, we recommend one of our favorite podcasters, Jasmine Bradshaw of The First Name Basis Podcast.
Want some last minute hella-queer costume ideas? Check out this post from Them. What are you planning to be for Halloween? Let us know in the comments section!
Last but not least…
Want to know something really scary? Currently, there are 505 anti-lgbtq laws in the USA (and this year has been a record number of anti-lgbtq proposed legistlation) oh yeah, and not to mention the threat to our democracy in general, bans on critical race theory and gender theory and book bans, and reproductive rights. Please vote! The anti-LGBTQ+ legislation proposals are real life terror. As is so much more going on in the world. Be a part of history and use your voice!
Our schools also need you! If you are a parent, educator, or even student in high school, check out our Leaders for Inclusive Change class. You can get all the information on finding tools and resources to help you start a GSA at your school. We need safe spaces in our schools. A report from GLSEN shows schools are hostile places for LGBTQ+ students. This in NOT OK! But you can help by trying to start your own, or check out how Mo Bailey provided safe spaces outside school by opening up her home for LGBTQ+ youth.
---
About the Author: C. Rizleris (they/them) is a contributing writer for the Pride and Joy Foundation and has worked in higher education for over a decade. They currently volunteer with LGBTQ+ youth at the Guilford Green Foundation and serve on the Transgender Task Force Committee for the city of Greensboro, NC. Currently, they are working on a hybrid essay collection centered on liminal spaces as a recent graduate of an MFA in Writing at Vermont College of Fine Arts. You can find C. on Twitter @rizwrites or visit their website.